Sea Turtles Experience in Puerto Vallarta
Sea turtles like all kinds of reptiles, are not able to breathe underwater. They come to the surface once in a while to take in oxygen and then manage to stay submerged for long periods of time. Almost 90% of their life is spent under the sea; Depending on the species, a sea turtle can live up to 150 or 200 years.
Most reptiles are oviparous, sea turtles migrate to different beaches in the world to deposit their eggs and some even migrate thousands of miles to nest. In some species, females return to the exact beach they were born, every two to four years in their mature period and create one to eight nests per season, each nest contains an average of 105 eggs. During the nesting, sea turtles must not be disturbed.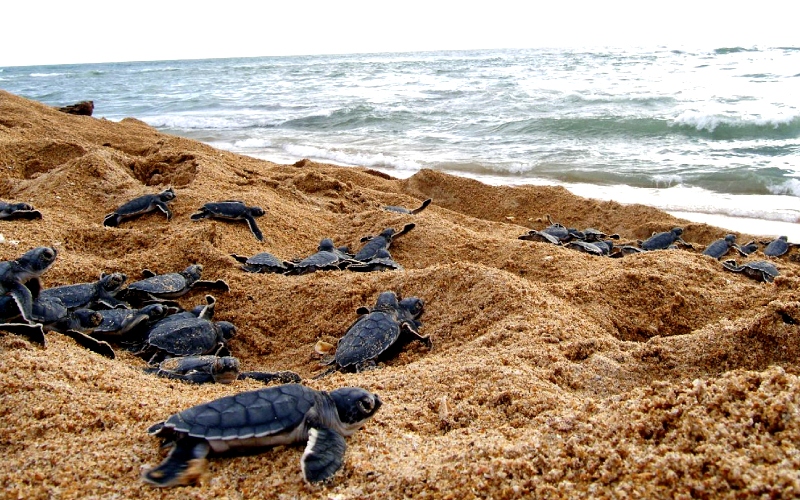 Some of the states in Mexico, (especially Jalisco where Puerto Vallarta is located) are the home of various species: Baja California, Campeche, Chiapas, Colima, Michoacán, Oaxaca, Sinaloa, Tamaulipas, Veracruz, Yucatan, Nayarit and Jalisco.
Turtles live in almost every ocean, except the Arctic. The best known species of sea turtles are:
Leatherback Turtle
Hawksbill Turtle
Olive Ridley Turtle
Kikila Turtle
Caguas Turtle
Lora Atlantic Turtle
Atlantic Green Turtle
Pacific Green Turtle or "Prieta"
The main species of sea turtles that can be seen between the months of July and December in Puerto Vallarta are the Olive Ridley, which is the most common turtle in the Mexican Pacific Coast, as well as the hawksbill and Laud turtles. The Olive Ridley females are unique among the other species, because they travel to give birth two or three times a year.
In Puerto Vallarta, we can appreciate them closer and protect them from any danger or predator, to prevent them from destroying their eggs before the pups can be born and return to the sea.
It is our duty to continue to raise awareness among residents and tourists, to protect and preserve these amazing marine reptiles. Today, thanks to the combined efforts of citizens, environmental groups hotel and participation; the beaches, one of the main attractions of Puerto Vallarta, are increasingly becoming a safe place for these amazing beings. Increase awareness and respect is necessary for the preservation of various species of sea turtles.
Helping to release baby turtles is a wonderful experience to share with your children. You can learn more about sea turtles and how to respect their habitat. Krystal International Vacation Club (KIVC) knows that the most important thing is to maintain a strong desire to see the baby sea turtles reach their adulthood; as only one from a thousand will be able to survive the wild. For this reason, it is our duty to preserve its cycle and wish the best of luck before releasing them into the Pacific Ocean.
It is advisable to follow safety measures of health and care in order to have direct contact with baby turtles:
Always have clean hands.
No waste in the hands of sunscreen or bug repellent.
Be careful when holding and touching a turtle to avoid hurting them.
Release the baby turtles at the same time, so they can find their way to the sea.
For more information and tours to live this amazing experience with your family, contact any of the following organizations that run this program.